To make an accurate shot, you must learn to sight in a rifle scope with precision. It takes some technical insight to set it up, but once you understand, you soon realize the value of this accessory. As you try more proven ways to zero your scope and you continue to practice at various ranges, you become more aware of your limitations.
In this blog, we'll guide you on how to sight in a rifle scope and get ready for action.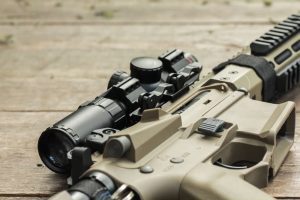 Install The Scope Properly
 A mounting system for a scope is present on most contemporary rifles. Your rifle might have already been pre-drilled and tapped for sight bases or feature a grooved rail system. Make sure your scope mount and rings are a good fit for the style of rifle you are using. Only specific types of scope bases suit particular types of scope rings. The compatibility of these elements is crucial.
Adjust Eye Distance
Make sure you have a sharp, clear view by adjusting your eyepiece. The scope needs to be adjusted, and the ideal eye relief made. When sighting in your rifle scope, eye relief is crucial. You must ensure adequate space between your eye and the scope so that the recoil won't hit your eye, which might inflict serious injury, depending on the type of gun and ammo.
Get the Best Shooting Level
You require a secure shooting position to see your rifle's scope correctly. You can mount your weapon on a shooting bench or using a bipod. Either approach will produce the intended outcome, but a rifle mount will hold your rifle solidly on its target while reducing recoil by up to 95%. Several rifle mounts are available in a range of pricing points that are made expressly for scope sighting.
Enhance The Reticle Focus
The alignment of the reticles is an essential aspect of shot preparation that people often overlook when zeroing in on their scopes. A canted reticle can cause your shots to miss the target to the right or left. This is particularly common when aiming at a target at a distance of 250 yards or more.
Set Your Minute of Angle
Given that you will need targets placed at various distances greater than 50 yards, you might find it the easiest to complete at an outdoor shooting range. You need a mount to keep your rifle steady when adjusting your MOA. Understanding how to sight in scope at various ranges requires making minute changes. Such changes shift the scope by one-quarter inch MOA every hundred yards away.
Typically, your shot will move by a quarter of an inch for every additional hundred yards. You can fine-tune for targets that will be farther away once you can consistently shoot grouped rounds close to the bullseye at each distance. Don't fire too quickly; some rifles tend to "walk" as the barrel warms up. Giving your barrel time to cool between bullets will prevent your rifle from hitting the precise target you aim for if you shoot too quickly.
Fire Three-Shot Groups to Get the Best Sight.
Fire three shots consistently at the target. If the bullets make small bullet holes in the target but not in what you are aiming at, consider adjusting your sight.
Keep Making Adjustments
Start firing at a target at a distance of 25 yards. Fire three shots towards the target bull's eye. Don't load three rounds in the magazine; instead, load, aim, and fire each shot separately. Check the shot location on the target. Your approximate target is the average of the three shots.
You would need to adjust the sights if the shots missed the target. Determine what modifications are necessary to move the point of impact toward the center. Make left-right or top-down adjustments to make the center the impact point.
Find Your Switchview USA Product
Remember, practice makes progress, and learning how to sight in a rifle scope will make your shots more precise. Contact us for more information.
Image Source: Rattanapon Ninlapoom/Evgenius1985/gan chaonan/Shutterstock